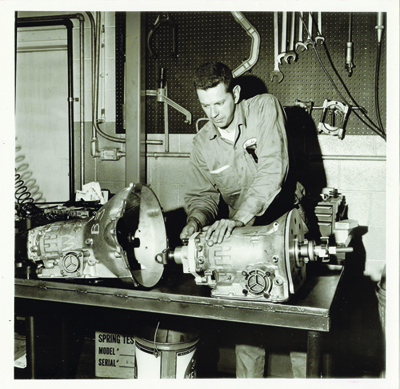 It is with heavy hearts that we announce the passing of Vaughn W. Winter Sr., founder of Winters Performance Products, Inc. and the patriarch of the Winter family.
Born April 16,1931, in York, Pennsylvania, it could be said that Vaughn's formative years weren't the easiest of times. After surviving the untimely passing of both an older brother and younger sister, he spent part of his youth in an orphanage in Warminster, Pennsylvania. After completing the 10th grade and as soon as age allowed, armed with his love of aviation and country, he was westbound to join the United States Air Force. Vaughn, whose call sign was "Maverick", became an accomplished mechanic, pilot and instructor at Laughlin Air Force Base in Del Rio, Texas and later at Warren Air Force Base just west of Cheyenne, Wyoming. Known for his mechanical ingenuity, he was often sought out by "the brass" to keep their personal vehicles in top running (racing) order.
It was at this same time that Vaughn married the love of his life, Madeline, in 1952. While in Cheyenne, he began drag racing a '49 Olds 98 and building automatic transmissions for himself and other local racers. Before long his work was in high demand, with car dealerships from as far away as Denver, Colorado calling on him to rebuild transmissions. His informal business was off and running. In 1958 he and Madeline returned to York, Pennsylvania. With a $100 loan from Madeline's mother, they formally established Winters Transmission that later became Winters Performance.
In the decades that followed, Vaughn worked tirelessly from early morning to late at night, building Winters' reputation as a leader in the racing and performance community. His creativity led to the development of countless components. These components helped make cars faster, quicker and safer as they battled it out at the racetrack. There isn't a racer in a division allowing Quick Change Rear Ends that hasn't competed using parts that were built by Vaughn Winter or benefited from his design innovations.
Today the company Vaughn and Madeline built is known worldwide and is one of the most trusted and respected manufacturers in the industry. However, this wasn't Vaughn's only passion in life. His wife and family were always his priority. Because of his unshakable drive and work ethic, he was able to provide them the very best life he could. He and Madeline loved to travel and they were also active in their community. He was a staunch supporter and patron of other local businesses. Although he was quiet about his generosity, he gave back whenever and however he could. He was also an animal lover and an advocate. He went as far as to install a hose bib for the groundhogs on the property so that they could have water on the hot summer days.
Vaughn passed away Tuesday, April 27, just eight days after his 90TH birthday. In a lifetime full of amazing accomplishments, perhaps his finest one is that his hard work allowed his family to take part in the business as well. Through 69 years of marriage, he and Madeline worked side-by-side, continuing to spend time at Winters nearly every day until recently. His love of hard work and passion has passed to the hands of his daughter, Nina, and grandson, Bob, who are continuing his legacy of innovation, creativity and philanthropy.